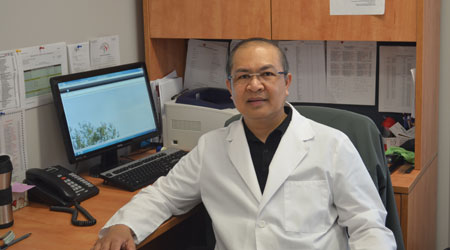 Health Nursing Program
Nurse Supervisor                                          

James Smith Community Health Nursing Program The Nursing Program endeavors to deliver the best quality health care to the Band Membership in a holistic manner, respecting the individual's personality, traditional practices, their honor, dignity and privacy. Our mandate to promote and maintain holistic health, prevent or minimize the occurrence of disease, and to empower the community members the knowledge to manage their health outcomes; is held in the highest trust by members of the health team.
Mandatory Nursing Programs
Immunization Program/Well Baby Clinic
The immunization program is delivered every Wednesday.
We can not over emphasize the importance of vaccination because to this day, there are still communicable diseases that are re appearing and sometimes the results can be devastating.
Our best defense against most of these diseases is immunization. Children are immunized as early as 2 months old because they are the most vulnerable as the immune system is not yet fully developed at this age.
During well baby clinic, the Community Health Nurse will also examine the baby for obvious problems and perform a developmental assessment. These are fast and simple but effective screening tools to determine the baby's development so that immediate intervention can be done if necessary.
All the Community Health Nurses are qualified and certified to provide immunization.
We are happy to mention that the children of James Smith have an average of over 90% immunization rate 3 years in a row and thereby, our Health Program receives a citation from Health Canada in recognition of the staff and community's due diligence and effort.
We extend our Congratulations and Thank You to the parents who continue to bring their children to the clinic for the much needed immunization.
Our efforts to prevent vaccine preventable disease is evident, we have not seen a child contract any of the disease for a long time now, and with your cooperation, let us keep it that way.
Maternal and Child Health Program
One of the recognized health indicators are the Maternal and Child Health of a certain place.
Our Prenatal Program is actively engaged in the promotion of Maternal and Child Health through, Education, Healthy Food Choices, Exercise, Regular Medical Check up and Home Visitation.
Click here to read more. James Smith Communuty Health Nursing Program PDF.