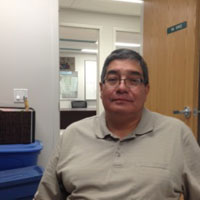 Medical Transportation
In 2012-2013, the Medical Transportation Program once again has seen a jump in the number of requests for transportation assistance to attend medical appointments. The following table and chart shows the comparisons between the 2009/2010, 2010/2011, 2011/2012 and 2012-2013 fiscal years.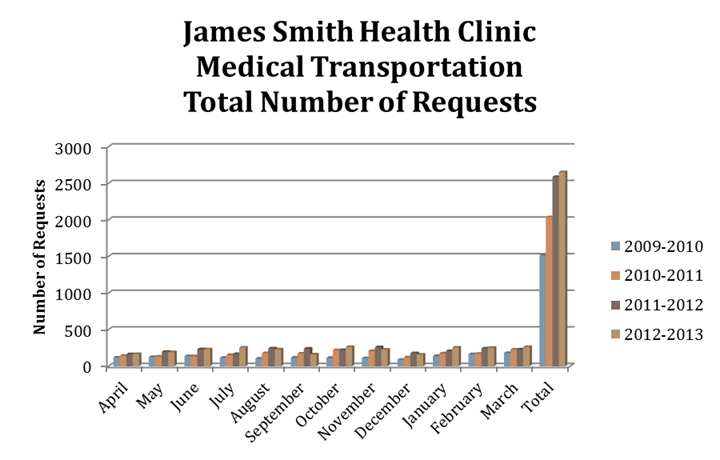 Included in the table and chart are requests to see dentists, general practitioners, and optometrist, specialists in Prince Albert and Saskatoon, Traditional Healers to name a few. However the table and chart does not show any requests that were denied. These numbers were too small a figure shows up on any chart.
The trip distribution according to the destination for the Medical Transportation program is reflected in the table and chart below. Once again the pie chart reveals the majority of trips in 2012/2013 were to Melfort.
James Smith Health Clinic Trip Distribution-Destination

2012-2013 Fiscal Year

Destination

Number of Trips

Saskatoon

301

Prince Albert

185

Tisdale

280

Melfort

1053

Traditional Healer/Out of Province

87

Other(Regina,Nipawin, etc)

15
Health Canada has designated Melfort as our nearest destination to access general practitioners, dentist, optometrists etc. This shows on the chart as Melfort has over half the trip destination.
The medical transportation program is funded by the Non-Insured Health Benefits program through Health Canada. The MT program is designed to help community members attend their medical appointments.  The NIHB set aside Melfort as the nearest destination to receive medical services. Medical services include General practitioners, dentists, optometrists, ultrasounds, x-rays, Lab work, etc. If a certain type of medical service is not available in Melfort, then the next nearest provider is Prince Albert. And furthermore if services are not available in Prince Albert then Saskatoon is the next provider and so on.


The MT program has three contracted taxis services and a clinic taxi. The taxi contractors can transport a maximum three passengers per trip. The clinic taxi is available to transport clients attending clinic activities. Clinic activities may include prenatal classes, elder's day, immunizations etc. On occasion, the taxi contractors may be busy or full on trips. When this occurs, the clinic taxi will cover any Melfort trips.

If a taxi is not available then private mileage will be offered to clients willing to take themselves to their appointments. Private mileage is available on the condition the clients present a trip sheet to the MT office proving they attended their appointments. Once the trip sheet is presented, further assistance can be offered to the client on future appointments.

The MT program also offers clients private mileage to clients seeking services from traditional healers.  Trip sheets and a receipt must be provided to ensure future visits will be approved. A receipt from the area from which the traditional hearer is from must be provided to prove the client attended the appointment.

Clients must give the MT office a notice of 48 hours to ensure a taxi is provided and private mileage is provided. This is especially true for Traditional Healer request as approval from Regina is needed before private mileage can be provided.
If you have any questions you can reach the MT office at 1-306-864-2454.