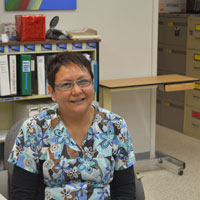 Home Community Care Program
The Home and Community Care main goal is to assist our community members to live at home in the community as independently as possible, preserving and encouraging enhancement of the support provided by the family and community.
The Home Care Nurse and 4 Home Care Aide delivers the program to its fullest.
The Home Care Nurse will assess clients to determine the care needs of an individual which usually will range from personal care, dressing changes, medication assistance, home making and meal preparation to help in the activities of daily living.
The Home Care Nurse is also in charge of ordering medical equipments and supplies; from wheel chair, walkers to dressing supplies as well as liaison with the physician and other health care professionals involved in the client's care.
The Home and Community Care delivers a weekly Elder's Day Program. The elders participate in several activities. Social interaction between the elders is always a good sight to see, the laughter and exchange of ideas are stimulating and inspiring. The program will not be complete without a good lunch, coffee and of course it culminates into their favorite activity, BINGO. They will also listen to occasional health education presentation with a lot of question of course.
This regular get together of our elders provide a forum to voice their concerns to the community leaders. Healthy discussion of issues stimulates our Elders to share their experience, guidance and vision for the community.
We also have a  Meals on Wheels Program that supports clients in need.
Organized Elders Annual Trip is always anticipated with excitement by the Elders. We are able to organize this trips through fund raising and fund solicitation from patrons.